Learn about yourself: Alfred Adler
I want to talk about Alfred Adler today and to share his name with those who never encountered him before. A few days back I saw a book called "What life could mean to you" by Adler.
To be honest, I had doubts whether it worth reading because nowadays a bunch of "commercial spirituality" type of books published every month. It's great on one hand and misleading on another. I thought he is the next one from the shelf. However my doubtful mood stayed there not until i started the research on him. I learnt he was a doctor and psychologist who lived at the same time with Freud, they knew each other, but Adler'd never been his passionate follower. That's where he grabbed my whole attention.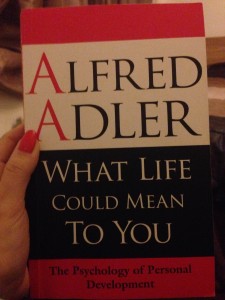 By reading Foreword in the book, I understood that his theory (and practice) was very much alike some others well-known Docs and at the same time unique. He was the one who coined the phrase "life style" which we use daily and it means a lot for us, we relate to it. Another thing he addresses a lot of adult's issues to one's childhood saying that the base of personality is built by the age of 5. However, everyone has a chance, power and right to change it. It's very sympathetic to me and I'm sure it's right because I went through certain situations and picked up certain things , which I apply to something else in the future and present, which gives a hint there is a chance and possibility to change yourself.
I interpret his words having my own background and opinion on it and I do definitely find his work appealing to me. I started to read and every paragraph makes me think and analyse, every phrase is there to question ourselves. It's written simply with the number of examples on every page, it covers most of topics I want to learn more about, it talks about body and mind, relationships with different people and how it forms us, how important collaboration with other people is.
Not long time ago, I asked myself if I do really like working with other people, do I truly want to be in a team? When did I work with someone for common purpose? I clarified myself that I prefer be responsible for my own actions and to cover as many subjects in the field as possible. That's why there is never the end of developing new skills and catching up with the others. And another thing. I realised that at the point when I'm ready to share and confident in what I'm doing I'll be happy to co-work in a team. And for sure, it has to be a creative atmosphere. Here we go, it's all about to begin.
I became interested in psychology at the age of 14 and had particular a reason for it. The first book I read was by Nikolay Kozlov with lots of pictures, stories and examples which made my introduction to the subject quite easy. What I remember from that time is his family's stories, his private experience and issues they faced and the way they dealt with it. I'm concerned with parenting and upbringing since early age because what I experienced was not particularly right in term of child's psychology and mental health, but it gave me my own unique base. I want to learn how to help a person to be happy.
There is always demand on happiness. I find it useful reading this type of books as "What life could mean to you" when a person is ready and open to change his life, to make it better without throwing his problems on others. Certain amount of flexibility and bravery required. When I first came to my psychologist It was so difficult to open up and answer to those "simple" questions he asked. I went there because I was afraid of answering to particular stuff but I knew it's high time to deal with it because it would stop me on my path. Otherwise it would always appear when it's not needed. Why should I keep an obstacle inside of me? It was not easy, but it did help a lot.
Nothing is easy at the beginning, but after some time you catch a wave and go for it more naturally. It's emotional and hard, but better than carrying your past as a huge tale. That's why sharing with you this author (Alfred Adler), the book and lecture is important for me. If I hadn't seen the first psychology book I read 10 years ago on the shelf of our house (or was it my friend's?) where would be me at this period of time?
And yes, it's not always about me, but I'm a tool myself to learn through. This is my lens. I cannot judge, learn, accept through someone else. Don't know how.
                                Lecture by Ken Cramer on Alfred Adler
P.s. I love watching great public speakers! This guy is awesome. He's a professor in Windsor university and after the lecture I found what students think about him on ratemyprofessors. It's really cool to have such platform where you share opinion about those who teach you. Would your rating affect your exam score?))) Who knows…