Svet Yoga Retreat – Himalayan Orchard India
Hatha Yoga in London & around The World
Hi there! I teach Hatha Yoga classes in London & abroad. Smooth, relaxing sessions with some challenging bits. To improve your body strength, balance & flexibility, tone & stretch the muscles. Calming, enjoyable, adapted to your needs & abilities. Focus on breathing, mind & soul. At the moment I teach only corporate yoga. This year I was invited to hold The Himalayan Orchard Yoga Retreat in India, November, 2017 at family-run farm & guest house near Shimla.
About The Himalayan Orchard Yoga Retreat in India…
What: It's one-week yoga retreat for beginners and intermediate practitioners, holiday-like event to connect with inner self, meet new cool people from different countries and be surrounded by pure nature at a remote farm in Rukhla. Our intent of hosting the retreat this November, is to provide all participants with a fully relaxing and refreshing stay, where we will not only have time to truly disconnect from the 'urban' world, and be more with nature, but also use this time to connect with ourselves.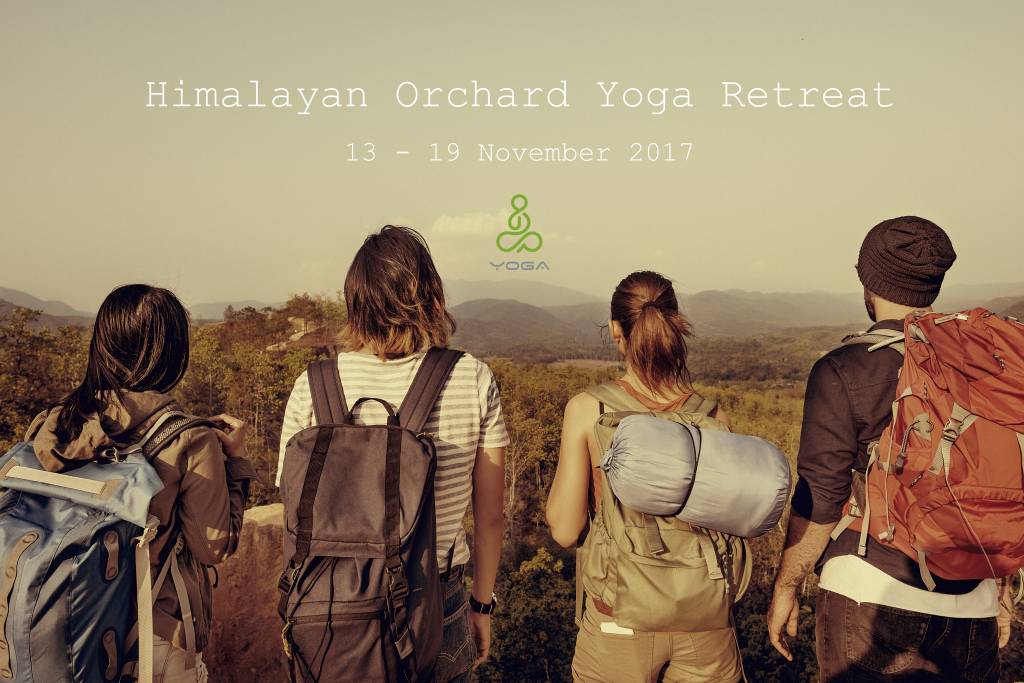 When: 13 November – 19 November 2017.
Where: Rukhla, Shimla, Himachal Pradesh, India.
Transfer: Arrival 13th Nov @11am Chandigarh -> Rukhla (6 hours drive); departure 20th Nov @10am Rukhla -> Chandigarh (included).
Domestic flight: Delhi – Chandigarh – Delhi (1 hour, 39-50£ return; not included).
Why: to share knowledge and practice of ancient Indian tradition smoothly adapted to the needs of modern life. To enjoy and connect in the sacred place of the Himalayas. To recharge own batteries, let go and befriend new like-minded people; learn more about nutrition, anatomy, yoga philosophy and practice – most important how to apply it to real life.
Activities: Hatha / Ashtanga / Vinyasa yoga, Hiking, Nutrition workshops, Anatomy Workshops, Yoga philosophy talks, Daily meditation practice, Pranayamas.
Teachers: Svetlana Elfimova (Svet Yoga Lnd) & Tanim Quazi.
"Through a daily practice of yoga, pranayama, and meditation, this one-week yoga retreat aims to re-calibrate your energies, and tune you into your bodies to bring a lasting calm and balance."
We will not only have fun, but there will also be lots of learning involved, filled with various engaging elements. Two experienced instructors will host different modules throughout the week, making for a comprehensive and well-integrated experience. Each day will be varied and diverse; starting with a morning pranayama and flowing yoga practice to warm up and energise for the day, followed by breakfast. After the first meal, there will be free time to enjoy your morning, options include: to go for a walk/ hike, attend small workshops on many topics like philosophy, anatomy, nutrition, yoga adjustments, etc. (each day a different one!) After lunch in the afternoon, you have another choice of relaxation time or joining a workshop module. An easing into Hatha Yoga session is arranged from mid-afternoon till sundown to get you active and ready for dinner. After dinner we will cool down, and have a quiet and peaceful meditation practice.
EARLY BIRD x 2 FEE is available by 1st of Sept, register your interest by letting me know via PM, write a comment here or email me by filling in the form below – 475£. That will include yoga course (daily yoga classes, workshops, eve meditation, pranayamas) + accommodation + food + transfer from Chandigarh to the farm, hikes in Himalayas.
To secure early bird x 2 Fee (475£) you will just need to transfer 250£ by the end of the August and pay the rest one month before the retreat.
GENERAL FEE after 1st Sept: 500-550 £ depending on the room & time of arrival – please email smile.ginger@gmail.com or PM me on Facebook.
LAST MINUTE bookings: 600£ one month before the retreat (in Oct).
Meet the Venue: 
♥♥♥
I invite you to join the Himalayan Orchard Yoga retreat in November 13-19th 2017.  
More details on FB page HERE 
Dreaming to go to India? – Himalayan Orchard Yoga Retreat – Make your dreams come true!
♥♥♥
If it's exactly what you were looking for – send your request via this form and I will contact you directly.
I am happy to answer all your questions 😉
About the teachers: 
Passionate & professional yoga instructor with 6+ years experience. 3+ years teaching privately & in groups in the UK & Russia. UK Qualified as a Hatha Yoga teacher with world class training through YMCAfit (CYQ Level 3) 2015. First Teacher Training completed in India, 2013 through Rishikesh Yog Dham school. Currently pursuing MSc in Organisational Psychology.
DBS/CRB Checked – First Aid Qualified – Insurance
Tanim Quazi
anim Quazi Yoga is "performing of complex and stressful movements in a relaxed state" (c). Tanim is a Bangladeshi, Yoga Alliance RYT300 yoga practitioner/ instructor, with four years of formal yoga experience. He is a widely travelled, culturally diverse professional with extensive communications experience. Practices and teaches in Hatha Yoga, Vinyasa-style yoga, Pranayama, Meditation, Cross-fit, Yoga Philosophy.
………………………………..
TEACHING ELEMENTS
………………………………..
Hatha Yoga Asanas; Vinyasa-Style Asanas; Pranayama and Kriya Techniques; Meditation; Yoga Therapy; Teaching Methodology (sequencing, adjustment skills, prop usage, practice assessment, personal programs, alignment skills, communication skills); Yoga Theory, Philosophy and Ethics; Anatomy, and prevention of injuries; Nutrition; 32 hrs. Prenatal Yoga Workshop.
---
---
Reviews on Svet Yoga London classes: