My yoga journey
Hello everyone!
I know it's been ages since the last updates on my blog. I'm happy u're still checking it, I can see the statistics 😉 Ok, it's time to tell the news, I guess.
And the news are that I'm about to start teaching regularly Hatha Yoga classes in NW London. It's going to be a mixed ability class for beginners (up to upper-intermediate practitioners). I love to introduce people into yoga.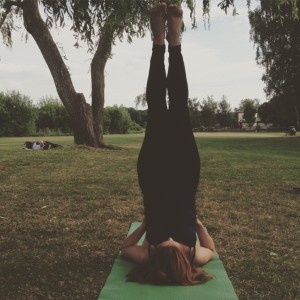 Every single day someone asks me how to become calmer or how to deal with some kind of difficult situations, how to get rid of back-pain and so on. People like to share; I do as well. Yoga is a lifestyle I want to share with you.
More than 5 years ago I started my journey: I dropped into yoga classes in Sochi, Russia, and I would not say I loved it straight away because it was physically demanding for me, it was tough. I could not do a "plank" at all! My arms were not strong, core was not strong, my mind was like "a drunk monkey jumping from one tree to another". But time passed. I realised, experienced, how practicing yoga started changing my life and the way I react to certain situations in life. How my body started getting used to, becoming stronger, bendy. It's incredible that in yoga you'd feel the difference straight away, you'd feel your own progress within a month or so.
I was on and off with my own practice until I found Tara Yoga centre in London in 2012. I could not be more lucky. I walked in for a class taster at the open day and I remained there for 18 months. I learned so much about myself and yoga: how each asana, each technique influence us, how it helps to discover and accept oneself. I simply learned how to appreciate myself, listen to inner self, understand the truth within.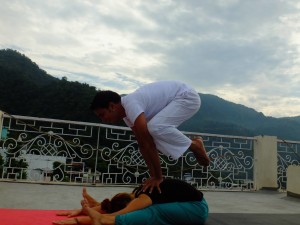 Before coming to this school, I had a huge ego thinking I'm a great practitioner, who needed more advance practice and blah. I had this attitude towards everything in life, I wanted more without working on it, without knowing, experiencing the basics. I had to learn from the beginning. I had to do first steps in order to understand in and out of what I am doing. It was a special year, it was a year of dramatic change that gave a decent push into my life being more of an adult than a teen.
In 2013 I went to India, in Rishikesh, to do my Yoga TTC 200 Hours at Yog Dham school. It was an amazing trip where everything changed dramatically once again. It was the time to apply fully what I've learnt before and to become open to whatever comes, without expectations. I had no plan for a month before the beginning of course, I just wanted to "feel the flow" and go to any point my heart and life take me to. I met like-minded people, met someone who helped me to overcome my own barriers and limitations re professional career (after that I got positive answer from NBC Olympics to my job application that became a start of another story). I met Katya and she took me to a little village Vashisht near Monali. This corner of the world in Himalayas is still my power place, a piece of me stayed there for ever (you can read about it on the blog).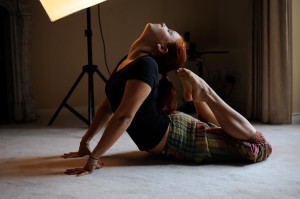 After astonishing weeks in India, being back to Sochi with zero in my pocket, I started teaching yoga in parks. Like a puzzle everything started to fall into the right place, step by step it started to grow. A friend of mine invited to stay at their house for free so that I can concentrate on classes rather than paying rent. I got a phone call and someone asked me to do a private yoga class by recommendation, paying in advance, that allowed me to book a yoga studio for a few hours a week. By that time, I had people liking my classes and being happy to join indoors. Another phone call. I was invited to teach yoga in a language school as I was doing it in English. Months later, I got another call. It was the time to stop teaching for a while. Something new was about to begin. Something incredibly important was yet to start.
Coming back to professional development in media field, I got an offer to work with BBC Panorama on a documentary movie. After that were many other projects to be done, but something was missing. My missing bit was yoga that fulfils completely, that always brings about new realisations, challenges, discoveries, new people and new feelings.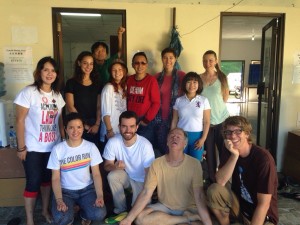 In 2014 I left for Asia again. Left with one-way ticket, leaving behind a lot of important things that are not things at all. Everyone who became close to my heart and my journey of life, every project that I worked at, my poetry events, yoga classes, university contacts. Our evenings in My Coffee cafe in Moskovskaya st., everything has changed dramatically again.  By that time I knew I love changes.
A few months in Asia – Thailand, Singapore, India, Indonesia. Yoga, surfing, Vipassana meditation. Challenges, discoveries, realisations, acceptance, achievements. Vipassana is the point I'm going to go deeper a bit. It was the practice that allowed me to let go a lot of incredibly hurting past memories, things that we bear with us without acknowledging. As acknowledged, I had to deal with it. Fear was there and I had to face it, otherwise it has the power to appear again and again when less needed. Vipassana teaches a lot on your own experience, teaching so much that nothing else (for me) could be same intense and productive. I felt a new person afterwards, even not new, but "cleaner" me without heavy thoughts, memories, worries, regrets. Of course, the state of mind like that does not stay with you until end of your days, but something unforgettable gotta be learnt. It is a lesson that applicable in everyday life. Many lessons actually.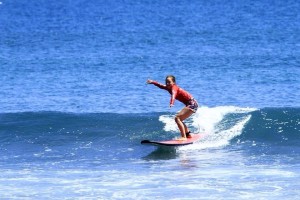 After the silent meditation, being isolated for 10 days without any contacts with people except each other's presence in the same hall (only later I understood it's one of the most important contacts people ever had), I was reacting to the world differently. Not only I felt calm and re-born, but also my mind set, the usual pattern of thoughts, have changed…I was aware and attentive of whatever happens to me. I was happy with what I had every second and what yet to come.
I flew to Cyprus and then to London. It was when my life changed dramatically again ))) I said "yes". Yes to try and go for it again. Yes to settling down, yes to facing something new.  Yes to my fears to meet them again. Yes to whatever yet to come. It was the first year when I knew I'm not coming back to Russia in a shortage of time, and now it's my home.
After a year, I'm happy to be here and happy to come again to teach yoga. I'm enrolled in CYQ Level 3 Teaching yoga course with YMCA Fit, passed my practical and most of worksheets. I'm fully dedicated to this 500 hours course and yoga. I'm finishing the studies by the end of August 2015. I've got the insurance already and the venue is to come soon. I will be happy to see you all practicing with me and to hear about your yoga journey.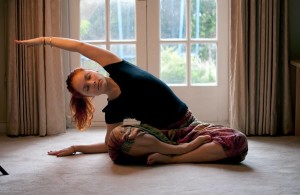 Svet Yoga – New Hatha Yoga classes in NW London.
Svetlana Elfimova. Hatha Yoga teacher currently based in London, UK. Experience 5+ years in different countries: UK, India, Russia, Indonesia. Teaching privately and in groups.
Qualification, courses, professional development:
-> CYQ Level 3 Diploma in Teaching yoga (ongoing) with YMCA Fit & Yoga Professionals / TTC 500 Hrs, London, UK
-> Registered RYT 200 with US Alliance.
-> 200 Yoga TTC in Rishikesh, 2013, India at Rishikesh Yog Dham
-> 10 Days Vipassana meditation in 2014 (May), Indonesia
-> Pranayama course "Breathe" with Swami Sachidanand in 2013, Vashisht, India
-> 1 year of Hatha yoga course in Tara Yoga centre, London
-> 4 Days Vipassana meditation in 2014 (x 2 in July & November), Great Britain