London: Visiting Lord Leighton House
It was Thursday morning when we met next to the Leighton House museum at 12 Holland Park road, Kensington. Beginning of March, sunshine in London. A group of four came to volunteer in the house and studios of Victorian artist Sir Frederic Leighton as part of the Booking.Cares project.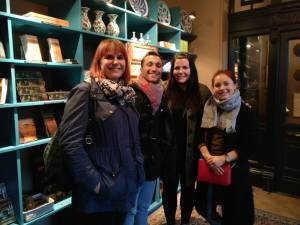 We did not have much expectations and knew little about the paintings if to be honest with you. Off we go. First of all, the house itself is an astonishing building and architectural masterpiece, interior design is incomparable to anything I have seen before. It was one of the first in-house studios being built in Britain in 19th century that had a purpose to accommodate life of a famous and extraordinary artist and provide him with a place to work.
Frederic Leighton was a bit of an outsider and spent his life alone in this house. He was never married and the question about his sexuality and relationship with the muse is still open. Visitors start their tour in the library that looks more like a study room, head to the Arab Hall – a fascinating creation of artists mind together with  representation of what he brought back from his travels to Morocco, Algeria and other Arabic countries. From the hall you walk through the Drawing and Dining rooms surrounded by the collection of paintings by different artists, Syrian decorative plates, sculptures, drawings and sketches.
The first floor is much different to the ground one, here you see a modest bedroom of the artist with one single bed, Silk room where temporary exhibition "Flaming June: The Making of an Icon" is presented. They say, after his death in 1896 it was impossible to sell his huge house because it had only one bedroom and did not fit to families' needs, there is no guest room either. Large studios are entered through two doors taking you in an incredibly light hall with dozens of works. Just a short walk away the most famous painting by Sir Frederic Leighton – The Flaming June – is up the wall in it's original form and incredibly beautiful colours. It came all the way from Puerto Rico and stays here until 2 of April this year.
On the practical side,
the admission fee is 12 pounds (ask the staff about concession fee). Audio guides available at 2 pounds to hire (good idea), it's a half hour tour around the house including temporary exhibition – what a bargain! In every room you will find black boxes with information, brochures and explanation. The museum invites temporary volunteers to meet and greet the guests (don't expect them to know every small drawing). This is what we did – learnt new things, touched a bit of British history and art, enriched our lives with new experience. By the way, just in front of reception desk you will find a small shop with unique souvenirs to take back home with you and remind about the art of Frederic Leighton.
To know more check out the Leighton House Museum's website. 
Photos are strictly not allowed.