Career Coaching: Learning the Tools
Hi everybody,
thank you for reading my page. You must be curious about coaching, want to become one or change your career? I am! All three things are areas of my current focus. Therefore, I decided to reflect here on what I learn, practice and realise. It's going to be my professional blog (along with travel and yoga posts) to share my steps on the way of changing my career.
It took me good ten years to puzzle all activities, jobs, interests and skills into a picture that makes sense. I felt that I am feeling the flow and living my life as I want to, just saying 'yes' to opportunities and often creating them myself, however I had no clue where it's taking me. I knew I want to be able to apply all I learnt in a one own project. Indeed, I have some ideas, however today's lectures at the uni (I am doing the masters in organisational psychology) gave me even more insights! I want to share them with you.
Career TimeLine
First task I felt for (after a bit of hesitation) it was to create a career timeline. It helped me to realise there is a common theme in the past five years, however before doing it I thought that a bunch of projects I did were not much interconnected. My another insight is that participation and engagement in different projects helped me to develop 'hands on' skills: ability to communicate with people from different fields and levels; organise and coordinate massive events; develop keen eye for detail —  if one simple task is not done on time, it will lead to a snowball of interrelated duties and create a bigger issue; give and receive feedback in order to improve performance or social interaction.

What I did was, I found the picture that I liked – the balloons, took a period of ten years (it could be shorter) and wrote which role I had each year. I worked on photoshop but you may want to use another editor, for example, Prezi.
Possible Selves Interventions
We have also looked into two playful tools to help us to set a goal and imagine our future life/career. Possible Selves is the way to imagine what your career will be like in 2-5-10 years without having a barrier. If anything was possible, what would you become? You write down a few scenarios – dream big, be playful. My ones were:
Author / writer (Psychology & Fiction);
Motivational speaker and speak at TED talks;
Psychotherapist (Transactional Analysis);
Career Coach;
TV Presenter (Psychology);
Traveller & Freelance Consultant.
After that we reflected on what we came up with and had a coaching session: asking questions and helping each other to dig into true wishes.
I loved this practice because it gave me positive emotions, I saw possibilities, I realised once again that 'author' is the one that goes first, was playful and open about my options. I have a dream and have right to believe in it, take steps towards achieving it and setting the direction that helps to get there. 
The Collage
Third task was to create a collage from a magazine images having an idea at the back of the mind – this is about your future. Somehow it brings up a lot of interesting stuff, improves self-confidence and helps to become more self-aware. We took a list of A5 paper, went through numerous magazines and cut a few pictures off, puzzled in the paper and once again talked through the chosen images – why we chose them, what they show, what we want to have in the future and so on.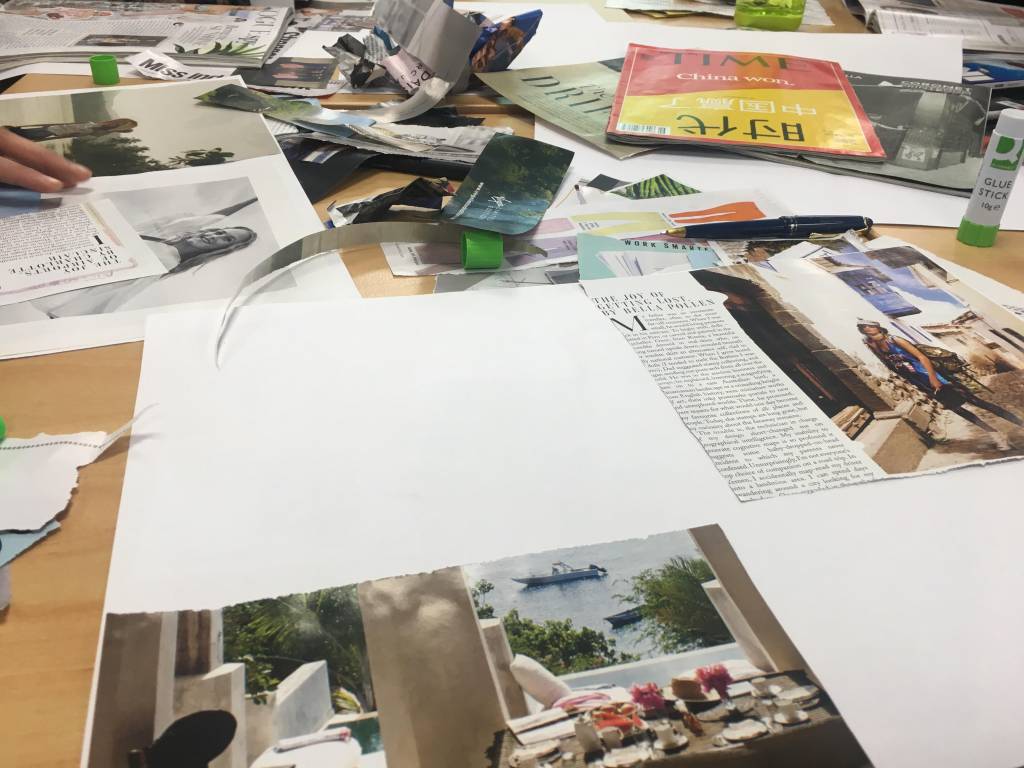 It's amazingly revealed what my current values are and where I want to develop. You don't think deep so it takes the stress away, but you connect with the inner child and play around those images. Once again, everything is possible!
These three exercises enhance creativity, help to see the options, dream and release positive energy. It helps to clearly see where to take a next step and If deepen conversations it will help to narrow down the choices, let's say from five to three and so on and create an action plan. Give it a go and enjoy!